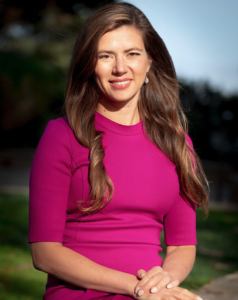 Steffany was born and raised in a small ranch in Brazil called Monte Carlo Ranch. Her mother raised her and her two sisters with incredible strength and many sacrifices; the name Monte Carlo Real Estate Investments is in her honor. At the age of 15, Steffany and her sisters had the opportunity to live in Switzerland for a year – it was the first time that they had seen snow! This was also the first time that Boldrini experienced "the world" and the possibilities that lie within a well developed country.
At the age of 18 she moved to Silicon Valley with her family. This was an incredible blessing. Not a day goes by that Steffany is not grateful for being in the US, and for the opportunities that this country has to offer. It was here that Steffany learned that she could become anything she set her mind to.
Before entering the world of real estate, Steffany founded a marketplace focused on natural, organic, and non-toxic products. The startup failed, but the experience and lessons were invaluable. Steffany then built a successful career as a sales leader at successful startups (one of which went public and is worth over $20B, and another has been sold to Microsoft). While seeking to diversify her portfolio, she was introduced to the world of real estate by a mentor in the Bay Area, a highly respected retail investor with over 25 years of experience. Through her personal experience as an angel investor she came to realize that she much preferred investing in real estate instead of startups. This was primarily for the security that having an asset-based investment provided, versus potentially losing 100% of her investment in an angel investing scenario, in addition to the dilution of her equity as the startups in which she invested grew.
Through her exposure to multiple real estate asset classes via her mentor, and due to the volatility and "bubble-like" state which many real estate investors have noticed in a number of major markets, Steffany began to explore other asset classes in which she could invest. Steffany first heard about the self-storage asset class while listening to a podcast, and decided to take a closer look. During her initial investigation, Steffany found that this asset class suited her desire for long-term passive income without high levels of maintenance or management, allowing her to gain both freedom of time and freedom of money in the future. Even more importantly, self-storage could also provide an asset class which is, for all intents and purposes, "recession-resistant".
For the past five years, Boldrini has developed an extensive experience in commercial real estate investing. She has a track record of double-digit cash on cash returns in a range of commercial properties. Her podcast, Commercial Real Estate Investing from A-Z is a leader in the space, recently named one of the best Commercial Real Estate Investing podcasts by Business Insider. Steffany is dedicated to incorporating technology in her investments, she believes that the use of technology can not only improve efficiency, but also drive revenue and decrease expenses.
For fun, Boldrini enjoys spending time with her family and friends. She is passionate about learning, mentoring, writing, podcasting, traveling, living a healthy lifestyle, and exploring different cuisines. Some of her recent trips have been to Australia, New Zealand, Greece and Denmark.
Steffany Boldrini is incredibly grateful for your consideration in joining our real estate family and community of valued investors. She looks forward to connecting with you, and learn more about what inspires you to invest in commercial real estate.
Latest Blogs